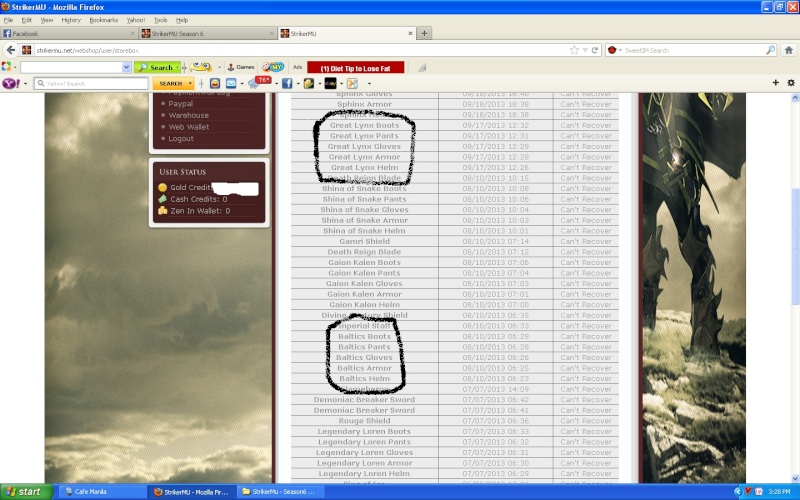 SORRY FOR THE LATE REPORT.... I JUST WANT TO REPORT THIS COZ ITS LYNX AND BALTICS SET'S AND 2ALTHAR, ICARUS, INFERIAL STAFF'S AND 1 RADIANT SHIELD.... I HAVE ss FOR THE SET' AND STAFF'S THE OTHER DONT HAVE COZ ITS PRIZE FROM THE GUILD EVENT THATS WHY I GET THAT ITEMS.... TNX I HOPE MY ITEMS IS BACK AND I HOPE THIS ss NO MORE QUESTION.... THIS IS WHAT HAPPEN ILL BUY 3PARTS OF SHPINX PARTS THEN I GET THE 3PARTS WHEN I LOG IT AGAIN ITS DUPPE BUT THE ITEMS I REPORT IS LOST....
I LOVE STRIKERMU...
MORE POWER TO THE ADMIN'S AND GM'S
WE ARE ALWAYS HERE TO SUPPORT THIS GAME....
Last edited by sixty9nerz on Sun Sep 22, 2013 10:26 am; edited 3 times in total (Reason for editing : MY UPLOAD OF SS IS GONE)